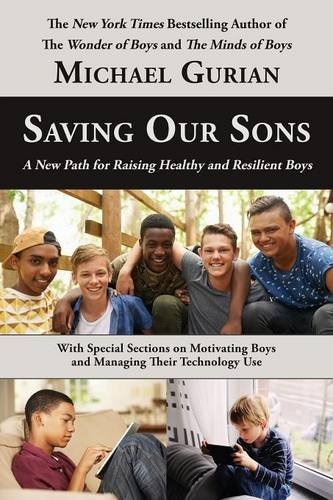 Blog post by Michael Gurian
In thirty years of working with children, I have never been more worried than I am right now for our sons. Some boys are doing very well but millions are disappearing into violence, imprisonment, social withdrawal, listlessness, virtual worlds, and real life self-destruction. If we don't end this national pattern, our boys and young men will become increasingly destructive, both to others and themselves because nearly every social problem we face in our civilization today—unemployment, income equality, incarceration rates, religious extremism, domestic abuse, mental illness, health care inequities, and painful violence against women—intersects in some way with the state of boyhood in America.
My fear for young males extends to young women.  As the father of daughters, I know that every social movement we spark on behalf of males will help females.  All of us are interconnected.  A nation of males in distress is very bad for girls and women.  To help you not only raise and support boys but also, hopefully, to inspire you to become a part of what I believe to be a growing social movement, I have written SAVING OUR SONS.
The book begins by proving these eight precepts of boyhood in the new millennium, then provides solutions and practical strategies to help boys survive and thrive.
1. As we have all felt and sensed, many of the social systems within which we raise and care for our children—schools, neighborhoods, social programs, and families—have changed in the last fifty years such that males in general face systematic neglect despite our public presentation of males as inherently privileged. Seeing our sons—really seeing what so many of them are suffering—makes up the first chapter.
2. To help boys survive and thrive I argue in the book that we must alter our thinking to include all three parts of gender–nature, nurture, and culture.  In the book I show that our academic and media attention to "masculine norms and gender stereotypes" is no longer enough help for boys (or girls) because these stereotypes and norms are not the primary causes of the problems our children face today.
3. As we look at all aspects of boyhood, we must make nature our starting point and baseline. There is a natural boy we can understand, assist, and protect, one boy at a time. Among the elements that assault this boy today are hidden neurotoxins that attack male genetics and socialization and, thus, can utterly derail male development yet often go unrecognized in our everyday lives. In this book, I will help you find these neurotoxins and construct family plans to protect your boys from them.
4. A non-malicious but also not-benign Dominant Gender Paradigm(DGP) has emerged in the last fifty years in "The Big Three" (our academic institutions, governmental/legislative agencies, and media).  This DGP deploys often superficial ideas about males that keep male life underserved, under-funded, and under-nurtured. The book features way you can understand and confront this paradigm in your daily life and local community.
5. Ensuring gender equality for girls and women does not require gender sameness. In the new millennium, neuroscience shows us that males and females are not the same, though their brains overlap a great deal across a wide gender spectrum. We can now build equality without the false premise of sameness, and we must do so if we are to help all children.
6. It's been difficult to revolutionize the lives of our boys, and thus our men, in part because we confuse the ordinary lives of most males with the lives of alpha and criminal males. Hyper-focused on "the 10 percent" (the leader/alpha males and frightening/pathological males), we neglect the deep needs of too many of our sons, which makes the boy crisis worse, and puts females in greater danger.
7. Now is the right time for revolution because there are now significant child development institutions already in existence around our nation and our world that show specific success-data for saving our sons. I'll provide examples of these proactive and revolutionary communities and schools throughout this book.
8. What we do now to help boys will help girls and women, because their needs are interdependent. The oppressor/enemy approach to women's rights popularized over the last fifty years has created a false impression of separation between women's and men's needs so it could uplift women. Now, however, the situation of our sons has become so dire we will not be able to advance the cause of girls' and women's equity any further without ending the cruelties and neglect our culture perpetrates on our males.
Overall, I believe an advanced kind of parenting is essential in our complex technological world so this book provides you with science-based best practices for ensuring male maturity and developmental milestones from birth to 25 that fit our new millennium's technological and social revolutions.   The newest research on screen time, videogames, cell phone use, and social media addiction grounds this book.
And if you've read any of my other books, you know that my work is multi-cultural. This book will not be a repeat of my previous books except that, like them, it includes current and new research from more than two dozen different countries and cultures.
Ultimately, I hope you'll find that this book is a bridge. Wherever you fit on the ideological spectrum, I hope the insights and suggested policies in these pages will inspire and resonate for you personally. If you have daughters, as I do, I hope you'll also feel inspired to spread this word and mission with personal vigor as well.
To learn more about the new book by Dr. Michael Gurian (February 2017), please click www.michaelgurian.com or find it on amazon.com and other booksellers.

About the Book

In Saving Our Sons, Michael features the latest research in raising and helping boys in all settings, including the development of social-emotional depth and emotional intelligence, male motivation, and resilience.  He tackles topics of significant importance in the new millennium, including neuro-toxicity and the male brain, and electronics and video game use. Linking practical solutions with strategic new policies based on thirty years in the field and twenty years of institutional work through the Gurian Institute, Michael provides a seven-stage model for the journey to manhood in the new millennium.
The book also tackles social and cultural issues facing our sons. Two of the book's chapters provide readers with successful ways to challenge governmental and academic institutions, as well as the media, to see boys fully and fairly.
In its eight chapters, Saving Our Sons is a unique combination of powerful writing, new research, practical strategies, and passionate social advocacy that helps our nation act on behalf of boys and young men—one home, one school, and one community at a time.
"Michael Gurian is a leading edge teacher with the rare ability to combine the personal, the practical, and the political in very accessible and powerful form. In Saving Our Sons, he has written a real pageturner. Its eight chapters take on one of the fundamental issues of our time—how we raise boys—from a science-based perspective that will catalyze new thinking and new strategies for families, schools, and communities in need. This is a very important book."
—Daniel Amen, M.D., author of Unleashing the Power of the Female Brain and The Brain Warrior's Way

"Michael Gurian'sSaving Our Sons is an immensely powerful mirror on the state of boyhood in America. Dr. Gurian's depiction of the problems and issues facing our sons is remarkable in its thoroughness.  The book's tone is forceful but not strident, warm and engaging without sentimentality or hyperbole. Gurian provides practical solutions for each issue he explores—economic, social, emotional, political, and personal. This is a must read for everyone in America and indeed the world who cares about and is caring for our boys."
—Troy Kemp, Executive Director of The National Center for the Development of Boys