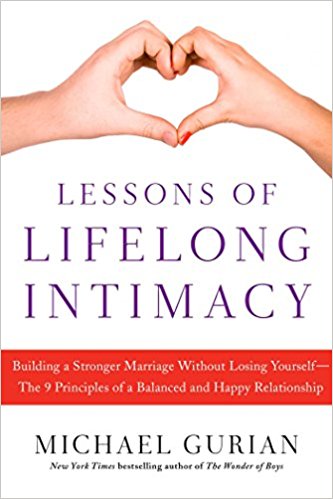 "Lessons of Lifelong Intimacy explores the hidden depths of marriage and relationships.  Gurian utilizes cutting edge neuroscience to help couples experience happy and balanced love.  This is an important and powerful book."
–Daniel G. Amen, MD, author of Change Your Brain, Change Your Life, and coauthor of The Daniel Plan
We are pleased to announce the paperback publication of Dr. Gurian's powerful new book on marriage and relationships, Lessons of Lifelong Intimacy:  Building a Stronger Marriage Without Losing Yourself.  This book is one of Gurian's best, exploring 9 principles of a balanced and happy relationship.  It answers the question, "Why do some couples stay in love for decades, while others hardly make it past their honeymoon?" in very readable language, and with Gurian's trademark emphasis on practical strategies.
Dr. Gurian's research shows that couples who make love last don't necessarily share every thought and feeling. The secret, Gurian argues, is the balance of "separateness" and "intimacy." This balance is no easy task, but accomplishing it raises a relationship or marriage to a whole new level of love and success.
A New York Times bestselling author, Gurian brings twenty-five years of marriage and family counseling to the groundbreaking plan in this book. This practical yet personal guide is richly illustrated with stories and case studies and supported by the latest science.
Gurian helps couples work through arguments and also delves into the typical differences between male and female brains, which may explain varying needs for intimacy and distance, and the effects these differences have on relationships.
And he explains how a fighting couple may actually be working together without realizing it, to solve the same problem.  In exploring this kind of conflict, he shows what can be done to finally end the major marriage killer of our time–ongoing power struggle between the couple over seemingly small but ultimately large things.
Lessons of Lifelong Intimacy unveils the secrets to lifelong love in a highly readable way.  We hope you will grab this book here (link to amazon.com) or through your other preferred outlets.
"Gurian culminates a quarter century of work with clients by elucidating the essential piece of marriage that is missing from so many self-help books:  intimate separateness.  This new paradigm for balanced marriage will change the way America thinks of love, marriage, and relationships."
​
–Farnoosh Torabi, financial expert and author of When She Makes More:  10 Rules for Breadwinning Women