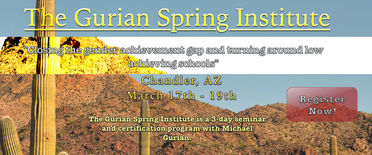 Our keynote and breakout sessions provide parents and professionals with best practices for working with students, clients, children, and one another. The practices and strategies can be utilized immediately in the home, school, or clinical setting to improve relationships, focus on skills, and shed new light on the inner worlds of boys and girls, and women and men.
NEW OFFERING: TRAINING FOR MENTAL HEALTH PROFESSIONALS
Lisa Bravo will focus on effective ways to adapt clinical practices to fully engage boys and girls, and women and men. Gender plays a major role in therapy, counseling, and behavioral health outcomes yet we often spend very little time learning about its role or how to maximize gender dynamics. The Gurian Institute strategies help you help boys and girls in all of your clinical and home settings. Taught by Lisa Bravo LPC, MC, LISAC, NCC, these strategies come alive in experiential terms.  Lisa is a psychotherapist in Chandler, AZ, as well as an internationally recognized motivational speaker and author.  She is a Gurian certified trainer, she teaches at University of Phoenix, and is an expert in parenting, behavior management, mental health counseling, and addiction recovery.
OUR OTHER SPEAKERS
Michael Gurian, New York Times best selling author of 28 books, published in 21 languages. He has been a keynote speaker and consultant for more than twenty years. Read his full bio HERE!
Katey McPherson, Executive Director of The Gurian Institute, a former secondary school administrator and is a co-author of Why Teens Fail: What to Fix. She has been an educator for 19 years, serving as a secondary school teacher, middle school guidance counselor, and assistant principal. Read her full bio HERE!
Dakota Hoyt, Executive Director Emeritus, of the Gurian Institute has been in education for 30 years. She has worked as a teacher, a math/science specialist, an assistant principal, a director of professional development, and an educational consultant. Read her full bio HERE!
MARCH 17-19 – GURIAN SPRING INSTITUTE IN CHANDLER, ARIZONA
Crowne Plaza Resort Phoenix-Chandler Golf Resort
REGISTER HERE for the Gurian Spring Institute