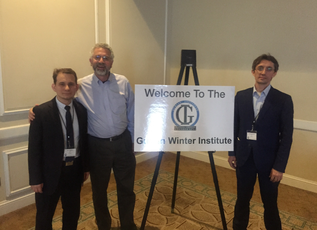 The Gurian Institute has been very busy this week as we wrapped up our 3rd Gurian Winter Institute on the shores of Tampa Bay and St. Pete Beach, Florida. What a wonderful weekend of learning and courageous conversations!
A diverse group of educators from our Gurian Model Schools as well as new participants to our platform enjoyed keynote speaker, Dr. Michael Gurian, as well as an array of our Gurian certified trainers on topics such as "BOY ACTIVATED: Driving Latino and Boys Of Color Crazy For Learning" and "The Highly Engaged Classroom for Girls". Deep dive sessions showcased Gurian research that faculty and staff implement at each of our Gurian Model Schools and they discussed the brain boost strategies and their benefits in the classroom and beyond.
Our Winter Institute brought international guests from Amsterdam, Jamaica, and Russia as well as contingencies from the Mid-South, Northeast, and 16 different states. We are honored to have hosted such a committed and passionate group of educators and look forward to continuing this success as we look to our Spring Institute in Scottsdale, Arizona on March 25-27, 2017.