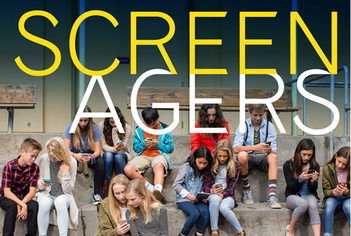 We are honored and excited to be debuting the "Screenagers" movie as part of our 15th Annual Gurian Summer Institute.
This moving documentary is sure to propel your thoughts and ideas on how families manage and supervise the many devices and technological gadgets that continue to come on to the market. Over 16 devices exist that are specifically marketed to millions of teens and tweens all over the world.
Delaney Ruston, physician and mother, directed and wrote this piece as a talking point and platform for parents and guardians to be able to have resources and access to beginning the courageous conversations of, where is the balance? Experts on child therapy, brain research, and technology addiction chime in to reveal the latest trends and research while we watch Dr. Ruston handle her teen daughter's wish for a phone.
Girls and boys differ in their approach to social media and online behavior. Girls, as is typical in their every day interpersonal communication, use it for a more verbal and emotive medium to connect and showcase their friendships and outward appearances, while boys typically interface on fast moving and spatial video games and digital media.
As with any medium, social aggression, ostracizing, and exclusion can be problematic for our youth, especially online where it's difficult to run pass interference for yourself, especially when you lack the maturity to do so.
If you are local to the Carlsbad area, please join us Thursday, June 16, 2016, from 7-9 p.m. at Army and Navy Academy, a Gurian Model School, as we begin courageous conversations around how to manage and protect our kids in the digital world as we launch our digital citizenship initiative.
An expert panel headlined by Rosalind Wiseman, author of "Masterminds and Wingmen", and one of the nation's leading social justice philosophers, in tandem with cyber experts, law enforcement, educators, family therapists, and parents will follow our screening.
Attached please find a sample of our family data plan contract as a first step and template to assist you in defining what digital citizenship looks like in your home. This includes adults too!
Screenings are in all major cities. For more information on a screening near you, please visit screenagersmovie.com where you can provide your zip code for available showings near you.
http://www.whyteensfail.com/handouts.html