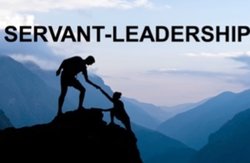 This week was a wonderful week of planning, executing, and pulling together many groups from around the globe as I pulled together the Gurian Winter Institute in Florida. I liken it to a wedding…plan, plan, plan, and then poof! it is over. While it was not as permanent as a wedding in the sense of vows taken, it was in a sense the same as educators from around the world came to hear new and innovative ways to reach their students.
On the plane home I was saddened to read that my elementary school principal from the early 80's had passed away. As I scanned his photo and news piece that the newspaper had laid out, it brought me right back to being 7 years old when I first met Mr. George Dodson. He was always friendly, smiling, and most importantly visible. There were many days where it would have been easy for him to hide in his office, but Mr. Dodson was out and about, playing with us, laughing with us, and inevitably, pretending to be one of  us.
Mr. Dodson epitomized the role of servant leader. He consistently was visible, he was constantly giving, and he cared for his students and faculty. As sad as it was to read that he had passed, a half smile spread across my face knowing it was a life well lived, full of touching others, and giving 65 years to his spouse and profession that paid him back a millionfold. He was an icon in my mind, and one of the many role models and reasons I went into education.
In this world of frenzied media, tweets and re-tweets, the topic of servant leadership and its' true meaning begs to be heard.
What is your calling?
How can we connect and care for our children in the ways they need it most?
While the rest of the world fixes the popular vote and defines alternative facts, our children need us.
As the first month of 2017 comes to a close, what will be your contribution to being a servant leader?
Step up.
Speak up.
Show up for someone and something.
Namely our students and the programs that support them.