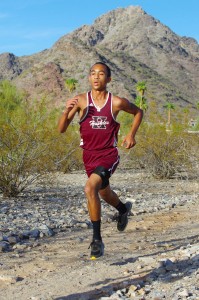 A year ago, Marcus Wheeler won the State Division I Cross Country title in 15:36, a race he had not even qualified for the previous three years. A year ago he attended prom, was looking forward to graduation, and the next step in his future at Central Arizona College as a scholar and elite runner on an athletic scholarship.
This same week last year, Marcus took his life, at school, with a gun.
7 months later two female students in Glendale did the same, and again, warning signs flashed like big red embers on their social media.
Over 4,500 fellow students experienced vicarious trauma on those 2 days as stunned adults administered emotional triage.
Although I did not personally know Marcus, I was called by Amanda Goodman from Channel 5 News to talk about how and what to look for on teen's social media if you suspect there is an issue. Other channels did a story on resources for kids and who they can turn to if they are feeling down, lonely, or potentially self-harming or suicidal, and they posted phone numbers for students to call. While these resources are plentiful and amazing, the reality is, our kids are each other's first resources, and then adults.
For me, Marcus represented ALL of my students, and all of our teens. Funny, awkward, going through the motions, under tremendous pressure, and just trying to "be", trying to figure out where they fit in this big, fast paced, sometimes daunting world. Hormones abundant, financial pressure to find money to go to college, pressure to have the right girl, gear, and "stuff".
In my quest to provide answers to parents who picked up their child from school that day, it really is quite simple.
Supervision, open communication, trust, and the ability to see kids for what they are–kids.
If you really are truly present, you don't have to dig into their phones and hover over texts, they will tell you exactly what it is they are going through– in their own way, in their own time, which very likely does not match up with your timeline.
Below is a repost of my post from last year, and this time, I am including a photo of Marcus.  We have to teach kids to report safety issues. They are the first line of defense for other kids, and it is too much for them to handle on their own. If you listen closely, and look closely, their message to the world is very loud and very clear. There are many reasons Marcus' last words were on Twitter.
Unfortunately, as adults, we missed the mark on the many beforehand.
Saturday, May 14th, 2016, The Gurian Institute, hosted 175 people in our community for a screening of "Screenagers", a documentary and town hall and courageous conversation about how to take our kids from digital distress to digital citizenship success. We discussed how do we embrace technology for what it is, how to teach kids to use it responsibly, how to unplug ourselves as families and trusted adults, and how to begin to really understand how the future is going to look for our youth as we move forward in a digital world that is only advancing.
There are several pros to kids using social media. We just need to be focused and vigilant when it comes to the cons.
Thanks friends for your support. Together we do make a difference in the lives of our children.
I am never brief. Yesterday morning our community lost a local high school student to suicide. 
I have lost at least 7 students to suicide in the last 12 years. All boys between the ages of 11-18.
This one was a bit different. He did it AT school. A place he poured his heart out to. He was a state champion in cross country. Ran the 800 in 15:36. Graduating in a few days. Going to college on a full ride scholarship.
What made it beyond comprehensible to most was he tweeted for the at least 10 days about not feeling like himself. Wanting to rewind his life. Hundreds of kids at his school of 3,000 students saw the tweets, and of course as teens do, retweeted them.
His digital footprint was vast.
Isolated in themselves the tweets were not much different than most teens rolling along on the roller coaster of life. Coupled together however, even a lay person would see them as not necessarily suicidal at all, but troubling. A sharp turn in his on line behavior, a platform that they all use to showcase their " highlight reel". Their voice to the world. 
But the stark reality is, this is the new baseline for kids. Sharing your feelings on line is just that. A one liner. Kids aren't mature enough to add up the cumulative comments. They're all just trying to run pass interference for themselves and keep their highlight reel looking better than the rest.
I don't know if any kids reported it. I don't know if any adults knew. What I know to be true is if you see an uptick in your child's posts being negative or down, something has happened. Students are reluctant to report because it's not cool to break privacy and confidentiality. Adults are not always present and engaged nor know how to monitor the dozens of apps kids are plugged into. Many parents I talk to say they have no idea how to work the phone itself nor have their child's password.
As I teach my students, if something sounds weird, it is weird. If the behavior changes, something is up. If someone is suddenly off, there is a reason. 
Students know things way before teachers and parents find out. Encourage kids to share with you. Get to know your kid's social media. Check in with them. Keep the dialogue open. All phones in off position on your night stand by 9 p.m.
This was a "GOOD" kid from a "GOOD" home. From all outside glances, he was "living the dream" until May 1.
I ask students 4 questions when they are struggling with these types of issues. We can teach kids a way to ask these questions of each other.
1) How long have you been feeling like this? 
2)Do you have someone to talk to?
3) Did something happen to trigger you?
4) Do you have a plan?
5)Do you have the ability to execute your plan?
I am NOT an expert, but students will NOT be calling Teen LifeLine. Although a great resource, their Teen Lifeline is Twitter, Instragram, Kik group chats, and the like. Hell, most of them have never even dialed their own phones.
He was any of our kids. He was amazing. He was loved. He was pure joy. He was in pain.
My sincere and heartfelt prayers go out to the entire TUHSD community as they wage triage for their students, staff, and faculty. Moving forward with graduation in just a few days knowing they lost one of the good ones MUCH too soon. Grace upon grace, peace upon peace as the healing process begins.
Be present!
Katey McPherson – Gurian Institute Executive Director