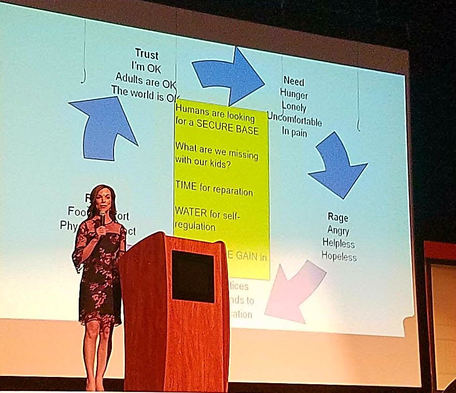 he mental health of our children is becoming increasingly fragile. Wherever we look, we see immense loneliness and confusion in teen communities. In the Phoenix area in the last month, for instance, there have been 9 suicides of children from ages 13 to 18. Nationwide, there are approximately 22 suicides per day, many of them teens. Many other teens do not turn death on themselves but on others as rates of teen violence correlate with declines in teen mental health. Dr. Gurian recently wrote, "Many of us believe teen mental health issues are becoming epidemic. From neurotoxins affecting the teen brain to the effects of trauma and social media, we are raising a generation of teens at risk of brain development issues."
​
The Gurian Institute is honored to be a part of both prevention and healing efforts. As we are asked to provide Summits and training to help schools and communities focus on SEL (Social Emotional Learning), we help teachers, administrators, parents and community members use a science-based approach to nurturing young minds, especially our most fragile. Communities and schools feel a visceral need to understand why–behind teen suicide and violence rates–rates of anxiety and depression are steadily climbing. New estimates put these rates at more than one third of Americans. We can absolutely come together to understand, prevent, and heal.
A recent Summit on Suicide Prevention in Tempe, Arizona, co-sponsored by the Gurian Institute, provides an example of positive social change. At this event, community stakeholders heard from Troy Kemp, Executive Director of the National Center for the Development of Boys, Katey McPherson, Executive Director of the Gurian Institute, and Dr. Max McGee, retired Palo Alto Unified School District Superintendent. Each provided science-based information and systemic change models for prevention and healing to help this Tempe community, where a cluster of teen suicides occurred.
Suicide Prevention, we believe, should be a conversation in every school and district because teen suicide has no candidate, and it does not discriminate zip codes. Boys are 3 – 4 times more likely to die by suicide than girls, while girls are 3 – 4 times more likely to attempt suicide than boys. As it is with every social and community issue, nature, nurture, and culture all play a part, and deep understanding the female and male brain provides answers, and solutions.
Our Gurian community will continue to examine these issues in our SEL and gender initiatives. The pictures attached to this blog show some of the ways we can all work in this area. We hope you will join us in any way you can, from helping to fund Suicide Prevention Summits to bringing training on SEL and the teen brain to your schools. As you look at these possibilities, please stay vigilant with your own children and students.
Listen to their needs.
Identify their strengths.
Capitalize on the quiet moments to connect.
Our children need all of us now more than ever.
​
–Katey, The Gurian Institute